We want to thank Ranch House Meats for partnering with us in May: Beef Month!
Please read the story of Ranch House below. Such a great company in the Montana community!
In 2007, a wholesale meat market in Shepherd, MT was introduced to the area by a local family. Our goal was to provide high quality, Montana made meat products sourced from local ranchers.  In 2014, we accomplished our goal of expanding into a retail outlet: Ranch House Meat Company in Billings. At this shop, we provide excellent personal service while serving delicious high quality products. Here you can find varieties of jerky, snack sticks, sausages, deli meats, and bacon all processed by our Shepherd location, Ranch House Sausage Company. We also offer a palate-pleasing selection of Made in Montana spices, BBQ sauces, salsas, hot sauces and other seasonings. In April 2021, our original location became USDA-inspected, allowing us to meet the growing demand, now being able to sell our Montana Made products in other states. Our commitment to quality is evident—you can truly taste the difference with Ranch House Meat products.
Thank you for partnering with us!
Montana Beef Council was created by cattlemen in 1954 to help get more beef on grocery lists and menus. By the 1980's a nation-wide effort was in place and the federal Beef Checkoff was established. Each time cattle are sold, one dollar is collected, and these funds are used specifically for beef promotion, research, education and producer communication. Locally, a 12-member board of directors administers the Montana Beef Council, and they represent nearly every segment of the beef supply chain through their volunteer service. Along with a small staff, the board searches for ways to build beef demand through promotional partnerships, health and nutrition awareness, cattle production and sustainability education, a wide range of beef research and more. Some of the board members represent Montana even further and serve the state's beef producers on a national level. Montana Beef Council is proud of the state's agriculture heritage and works every day to get more beef on more plates.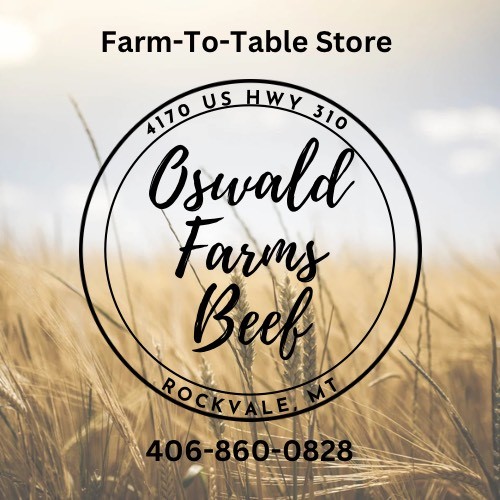 Oswald Farms Beef is a fourth generation Family Farm and Ranch in Rockvale, MT.  We raise Farm-to-Table Beef, Corn, Barley, Hay and Sugar Beets.  We also have a Farm Store that carries our Beef products and other Montana Made items.  Our Beef is proudly served at the Edgar Bar, one of Montana's premiere Steak Houses.  
We pride ourselves in producing the best Beef around.  All of our Beef is 100% Montana RAISED and PROCESSED LOCALLY at a USDA inspected processing facility.  We sell our Beef as individual cuts, custom packages, quarters, halves and wholes.  We also have gift baskets and do corporate gifts during the holidays.
Blue Creek Marbled Meat Company opened in July 2022 with a focus on providing local producers with the highest quality custom processing and a farm to table solution for families. Spencer and Jeannie Griffin are the owners of Marbled, Spencer has been perfecting his cattle genetics since 1991. His motivation while breeding certified black angus cattle and American wagyu was to raise the highest marbled and quality beef. Our beef is all-natural and dry aged to perfection! It is something we are proud to stand behind.  We take great care in every step of the process, from raising the cattle on our ranch, processing, and packaging the meat.  When you choose MARBLED beef, you can be confident that you are getting a product that has been raised and prepared with care and attention to detail!